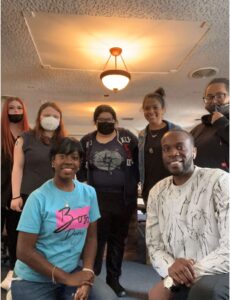 Get to Know Our Current 2022 Spring Interns!
Breana Sims is currently an intern at The O League who works on the Social Media and Newsletter team. She loves Graphic Arts and Design and hopes to use some of the skills she's learned at The Opportunity League to pursue a future career in Graphic Design. 
Hallie Cline is currently an intern at the Opportunity League. At The O League,  she works on expanding communications for The Opportunity League's Villages  Community Marketplace. For the future, she hopes to pursue a Veterinarian Training Program to become a vet assistant.
Edmund Robertson is currently an intern at The Opportunity League and is currently a student at Rowan College at Burlington County getting a degree in Video Production. Edmund usually spends a lot of my time doing personal video work and decided to take an internship at The O League because he found it exciting to work with others to have more experience in different types of video content. With the impact that The O League has here in Burlington, he is hoping that this opportunity would lead him towards furthering his skills as a creator and impacting more people with the work that he produces.