YOUTH CAMPS, CLINICS & TRAVEL SPORTS
PROMOTING A HEALTHY & ACTIVE LIFESTYLE THROUGH TEAM SPORTS!
The O League provides camps, clinics and travel sports opportunities for youth in basketball and baseball.
Our programs are designed to:
ENCOURAGE DISCIPLINE & LEADERSHIP: We use athletics as a way to boost self-confidence, communication & teamwork.
PROVIDE MENTORSHIP: We employ "role model" coaches and instructors that understand youth physical, mental, social and emotional development.
PROMOTE FITNESS & NUTRITION: We want our athletes to adopt healthy eating and fitness habits early in life.
By participating, our student-athletes:
 compete in a safe and supportive environment
 have access to professional & experienced trainers & coaches
 develop strong fundamental skills
 are connected to resources such as college recruiters & specialized workshops
 receive recognition for their athletic & academic accomplishment
Upcoming Events!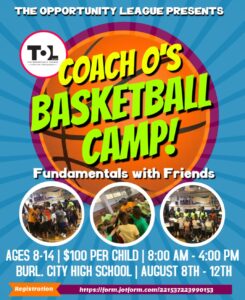 REGISTER FOR COACH O'S BASKETBALL CAMP!  For more information, please contact Seigha Omuso at 609-668-4316 x. 1 or somuso@theoleague.org.
To Register:  Please complete both registration form below for each individual child.*