Path 2 Careers – Skills Development & Job Placement Program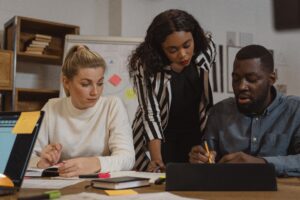 Path 2 Careers (P2C) – Skill Development Program prepares students to become a highly sought-after talent in the workforce. We teach them the best practices for developing an attractive resume and skills employers are really looking for. As a result, our students add tremendous value to the workplace and enter careers they are proud of.
Training tomorrow's workforce through strong partnerships, we're are able to empower individuals by improving their earning power. Together, we are committed to training tomorrow's workforce and ensuring that individuals are well equipped to pursue their passions.
Path 2 Careers (P2C) – Skill Development & Job Placement Program is the workforce development component of The Opportunity League. P2C walks students through certification programs in IT, Supply Chain Management, Logistics, Cybersecurity, Construction and Culinary Arts. The program has a high success rate in getting students certified and hired for in-demand careers with competitive wages.
The program consists of an 8-week certification course that includes the following curriculum:
CLASSROOM INSTRUCTION
Students participate in 8 weeks of classroom training.
HANDS- ON TECHNICAL TRAINING
On-site learning experience in related field to see how classroom instruction applies to the real world.
APPRENTICESHIP**
On-the-job training under the supervision of industry professionals.
JOB PLACEMENT & INDEPENDENT CONTRACTING
Individuals who have passed exams, completed training hours and have developed the soft skills necessary receive assistance in finding gainful employment with P2C partners and potential employers.
If you or someone you know is interested in participating in our P2C course to get a jumpstart on their career, please complete the form linked here.